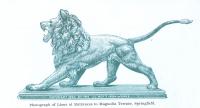 For those who remember my original article wondering where the Magnolia Lions went...
I came across an article in the Springfield Republican, April 21, 1957. At this point in time, the Magnolia Lions were no longer in existence, and in fact, people were remembering them with nostalgia, so they likely hadn't been around for a while.
Someone had written a letter to the editor talking about the lions, saying:
I can say with authority that they were not "leaden". They were bronze. And they were cast by Mott Iron Works (Mott was a German). They didn't suffer from being chipped by children (kids can't chip a bronze casting). But their tails were eventually broken off and they were badly defaced by someone's application of blobs of unsightly, light-colored paint".
The editors responded with this:
We will, however, argue one point with you - your contention that the lions were bronze. For we distinctly remember that they were a dull gray in color and that pieces of their soft metal bodies - of a leaden-like consistency - could be torn from the statues, revealing a hollow interior beneath. We can remember removing a small section of the metal from one of the lions' tails at a time when they were becoming shabby and shopworn from abuse.
(For the record, the Republican, in 1893, ran an article that said that the lions were in fact made of bronze, but to be fair, the editors in 1957 didn't have the search capabilities that I have today.)
I then found the earlier article in this 1957 exchange, published a few days earlier, which stated:
The lions might still be adorning the Sumner Ave. corner of Magnolia Terrace if the ravages wreacked on them by hundreds of children hadn't proved too much for them. For some children chipped off pieces of the lions tails to take home as souvenirs. Other youngsters hacked off various other pieces of the lions' anatomies until the statues began to lose their identities and were eventually removed.
Digging back even earlier, to 1952, I came across this article:
The lions disappeared from the bases fully 17 years ago [1935], according to the best information available yesterday [an inquiry had been published the day before]. Mrs A.J. Aronson, who has resided at the corner of Sumner Ave. and Magnolia Ter. for 25 years, said she and her husband discovered one morning after Halloween that the lions were missing.

She said she had understood that the lions were roped by young celebrators and dragged off their bases, and that when they landed in the gutter the metal figures had been so corroded that they had been shattered.

Superintendent of Streets Charles A. Bailey's recollection was that the lions were reported missing one morning and so far as he is aware never have been found.

Superintendent of Parks Theodore R. Geisel said he had understood Street Department crews picked up the broken lions and carted them away. But where the broken pieces were deposited, he could not say.
A few days later, the paper carried this information:
We finally discovered what happened to the pair of metal lions which, many years ago, disappeared from the sandstone pedestals which still stand at the Sumner Ave. entrance to Magnolia Terrace.

It seems that over the years children broke off pieces of the metal figures until they became so unsightly. Final acts of vandalism so ruined the familiar sentinals that the Park Department removed them. They have long since been broken up and consigned to the melting pots which await all old, useless metals.
So that's it. They're gone, and have been gone since 1935. They weren't melted down for World War 2. They lasted about 40 years, became run-down, and were vandalized by kids.
The original lions cost $1,000 - in 1893! Considering that the cheapest house allowed in Forest Park Heights at that time was $5,000, that might peg their cost at somewhere near $100,000 today in a neighborhood of $500,000 homes.
Who knows though - maybe someday statues can be returned to this spot, maybe not of bronze, but of another material, like fiberglass. There certainly are plenty of large fiberglass teddy bears, sneakers, airplanes, and dogs floating around the Pioneer Valley.