Mason Square/Winchester Square/Winchester Park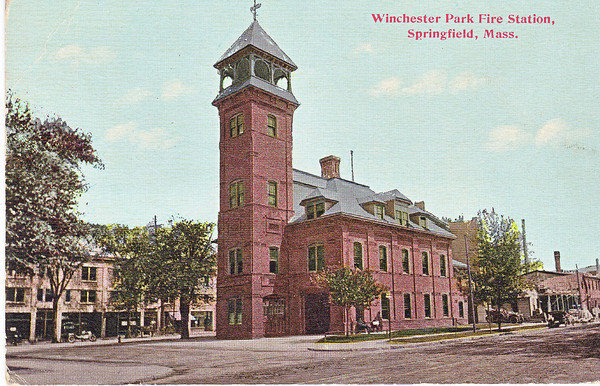 Winchester Square Fire Station


Photo added by Ralph Slate
I am doing some research on this venerable piece of land and am trying to figure out when the names were changed. This is what I know.
Primus Mason bought the land in 1850 for $25 and sold it to the City in 1860 for $60 with restrictions that it had to always be used for public purposes. In 1885 Mason removed the restrictions for $1 from the City so that the City could build a Fire Station there. Fire station was built by W.H. Buxton for $16,000. Original tower on the fire station was removed in 1915 during a major remodeling
At this time (1885) Mason offered to sell another parcel behind the current Fire Station for $50 so they would have more land for the Fire Station but the City turned him down. Land became part of Hendee Manufacturing.
The remainder of the land the City owned, having been Masons, was named at this time Winchester Park after Mayor Charles A. Winchester who had been Mayor from 1868-69. Winchester was a lawyer who was described as a "careful painstaking excellent Mayor" and that his "death at the prime of his life was a great loss to the City "
Mason died in 1892 and left an estate of $37,700, $33,000 of which was used to start the Home for Aged Men, now the Mason Wright Home.
My questions are: When did Winchester Park have its name changed to Winchester Square? Was it done formally and by what decree? What had Mayor Winchester done in his brief Mayoralty 15 years before that warranted the park being named for him? Do you know anything about Winchester? I had read somewhere that the name Winchester was used as an English reference to go along with the fancy names being used by the McKnights who were doing development in the area. I think this contradicts this theory.
What was the date of the change from Winchester Square to Mason Square in honor of Primus Mason and who had initiated that and seen that it was done.
Sources: Highland Community 1921, Published by Highland Co=Op Bank and Kings Handbook