When I saw this unique stereoview for sale, I just had to buy it. It depicts the downtown Springfield block that used to house the Massachusetts Mutual Life Insurance Company. It isn't your typical stereoview because it shows this block right after it suffered a devastating fire.
The book King's Handbook of Springfield pinpoints the date. It says:
The office of the company was in rented rooms in Foot's Block from 1851 until early in 1868, when it was removed to the company's own handsome and well-known building on Main Street.

The next move was a sudden one; for on the evening of Feb. 5, 1873, a fire broke out in the lower part of the building (which was rented for mercantile purposes), and raged all night, destroying all the rear and much of the front part of the structure.

The company's safes, and most of its books and papers, were preserved; and business was transacted, with but little interruption, in temporary quarters in the Hampden House Block on Court Street.

By December of the same year the company's own building had been rebuilt, re-arranged, and improved, under the supervision of George Hathorne, the New York architect, and its own offices were reoccupied.

The lofty brown-stone front and iron mansard roof form a handsome and conspicuous feature of the street; while the Masonic lodges and other organizations that occupy the floors over the company's offices, and the stores that are on the ground floor, make the inside of the building familiar to a great number of people.
Here are some other photos and sketches of the structure, from after its renovation.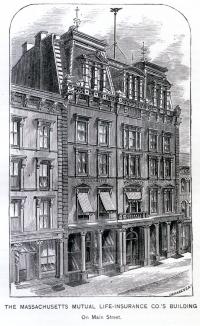 Update: Here is another stereoview of the destroyed Massachusetts Mutual building.
Mass Mutual Fire of 1873 #2