There is an exciting new development for people interested in researching Springfield and Springfield-area history: The Republican has digitized many of its back issues and is offering them online on a subscription basis.
Buried on the Masslive site is a link to this service:
http://nl.newsbank.com/nl-search/we/Archives/?p_product=HA-SUNB&p_theme=...
Issues from 1877 to 1947 are currently indexed (unfortunately with a gap from 1911 to 1922), and they are working on 1947 to the present.
That's the good news. The bad news is that the service is only mediocre.
I have used a number of online newspaper services with various interfaces. The best, I have found, is NewspaperArchive.com. That service is affordable ($6.99 per month when paid yearly), fast, and has an interface that allows many different ways to search and navigate through the content. I highly recommend that service.
In contrast, the Republican archives are somewhat expensive at $9.95 per day or $19.95 per month. I can deal with the price since I have significant interest in their archives, but the bigger problem is that their monthly service comes with a 50 article limit per daily subscription, and an incredibly low 200 article limit per monthly subscription! Anyone who has searched online archives knows that there is a lot of hunting that takes place before you find what you want. 200 articles per month is not much at all -- I expect to burn through the 200 articles in 2-3 days, then I'll have to sit things out for 27 more days.
A note on the service says "The Springfield Republican Historical Archive contains no photos, charts, or graphics." -- but that does not seem to be the case, since I managed to find some photos. That was a welcome relief. That must be due to potential intellectual property issues surrounding copyrights of photographs -- but other archive services show photographs, so it would seem to be a solvable problem.
So I decided to pay my $20 and try the service out. Here are my impressions.
The indexing of the articles seems decent, but far from complete. I searched for some ancestors, and even though I have some newspaper clippings with their names in them, not all came up in the search results. That could be due to the quality of the images, which were scanned from microfilm, not from the original newspapers. A lot of the text was not that readable since it depends on how well the newspapers were filmed, decades ago. However, even a spotty index opens many doors for research, it allowed me to find some long-lost family history very easily. I'm now salivating for more.
I found the results interface significantly lacking. The content is returned in a small frame on the browser, usually zoomed in a bit too tightly.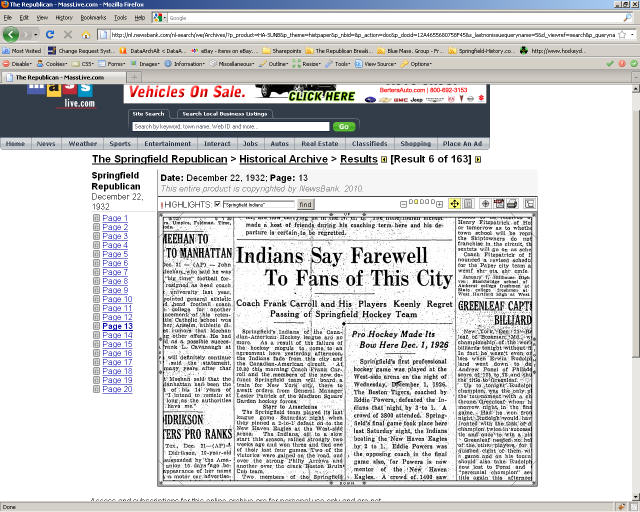 The image is a PDF image, which is standard, but there is no index overlaying the image. What that means is that if you get a "hit" on a search term for a page, there's no way to find it on the page by searching the PDF. You have to either rely on the interface positioning you in the right section, or you have to read the whole page. That is amazingly frustrating.
But beyond that, the overall frame is just too small to view the content, and the interface has a weird way of sometimes showing the whole page, but sometimes showing just a few columns from the page. There is a way to guarantee seeing the whole page -- clicking the page number -- but that is not efficient, and probably counts as another article viewing.
The load time for each article takes way too long -- perhaps 5-10 seconds per page, sometimes longer. The standard PDF zooming (using the Control key and the wheel on the mouse) does not work on the framed content -- so if you want to zoom out, it's an additional page load, which takes another 5-10 seconds. It is possible to break the PDF image out of the viewer (which also allows you to save the PDF image to your hard drive), but to do that you need to click an additional button which takes another 5-10 seconds.
All said, it's just not that good of an interface. If the search results were links to the PDF image of the page, and if the image was indexed with the search terms, that would be much more easy to work with. That is how Newspaperarchive.com and the Toronto Star archives work.
Although it is possible to navigate from page to page on the interface, there is no way to navigate from day to day. I find such a function very important when researching a specific topic -- either a news story, or just to browse.
All in all, I'm very happy that the Republican is now online -- I have waited years for this to happen. However, I hope that they continue to improve their service, eliminating the low page limits and making it easier to both search and navigate the results. I know that this service will allow me to do some good research on Springfield's history without having to truck down to the limited-hours library.