Someone asked me when schools were built in Springfield, so I decided to consult some prior research that I had compiled. When I looked at the list of Springfield Schools that stood in 1900, I was surprised at just how few of them are still standing. Of the approximately 40 Springfield Public Schools that existed in 1900, just 10 11 remain standing -- 75% of them have been demolished.
Update: Springfield Historical Commissioner Bob McCarroll has told me that I missed a school -- Alden St. School, which was converted into a church. I was confused because the school was built in 1890, but the city had the building present on the site listed as being built in 1910.
Only one school stands from Springfield's first school building boom in the 1860's, only 2 schools from the city's second school building boom in the 1880's stand, only one single-room ungraded school still stands, and only two schools from the 1890's stand largely unmodified.
Here are the ten eleven schools, ordered by year of construction.
Indian Orchard Grammar
Built in 1868, this is Springfield's oldest standing school, although it has been significantly modified to the point where it is unrecognizable from its original design. It was renamed Myrtle Street School and the original school had another building built in front of it. Then a second building was built in the front, a twin of the first. The school was later converted into housing, I'm not sure when.
---
Jefferson Avenue Primary and Grammar School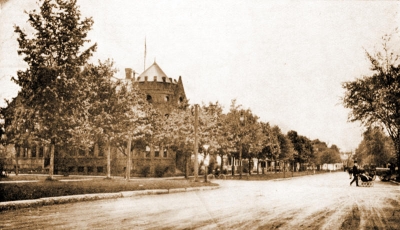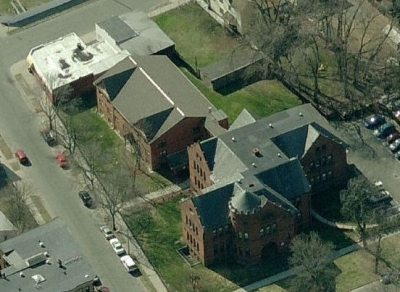 Built in 1888, this school was closed in 1976, and was converted into apartments in 1988. An addition was erected on the rear of the original school, I'm not sure if this was done for the apartment conversion or earlier. The main building may have been enlarged early on too -- although the visible profile matches the building footprint 1899 city atlas, it was not unusual for schools to expand within 10 years of being built in those days.
---
Tapley Primary and Grammar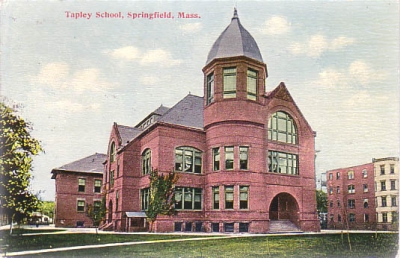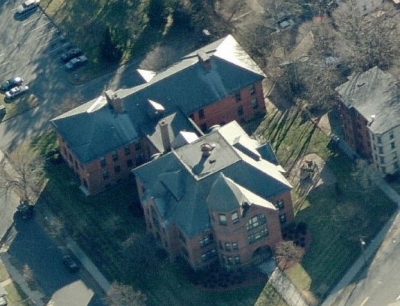 Built in 1888, this was started as a school to "teach teachers". It was nearly lost in the 1980's as the city abandoned it and it then suffered a fire, but was luckily renovated and converted into housing. It seems likely that the wing at the rear was an addition, but it was done early on, since it is visible in the postcard image circa 1915.
Dry Bridge Ungraded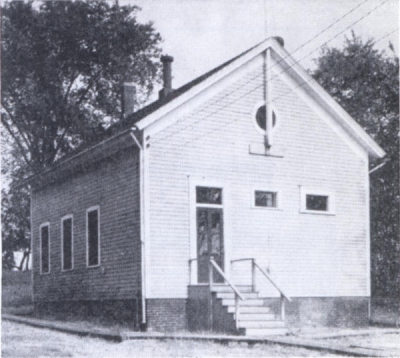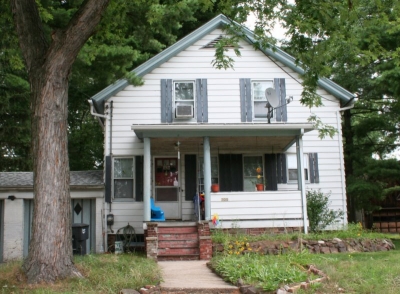 This is Springfield's last one-room schoolhouse, built in 1891. It was converted into a private residence in the 1950's, and it is possible that the current owners are not even aware of its historic status.
---
School Street School

Built in 1892, on a lot across from where Springfield's very first public school stood, this was closed at some point and converted into an office building. An addition, perhaps an elevator shaft, appears to have been erected on the side opposite High St. It was recently purchased for use as a youth program.
---
South Main St. Primary and Grammar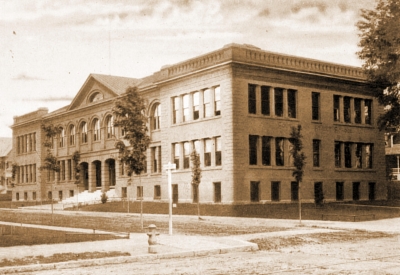 Built in 1896, this school was converted into elderly apartments (not sure when). It was never enlarged, so it is the same design as when it was originally built. Its future seems pretty solid.
---
Central/Classical High School

Built in 1898, and later enlarged, this ceased to be used as a school in 1986 and was converted into Classical Condominiums. Its future seems secure.
---
Homer Street Primary School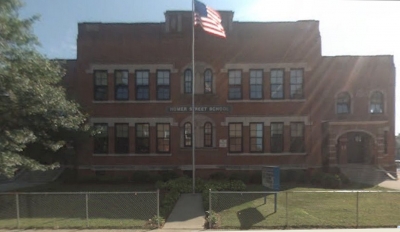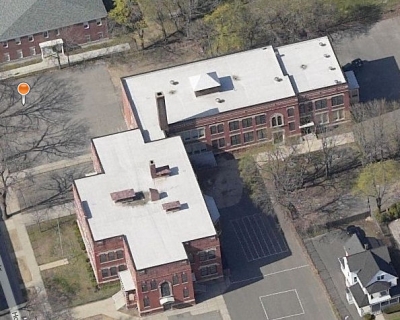 Built in 1898, this is still being used as a school, however it was frequently cited as an example of a school in poor physical condition. Its future is uncertain, since it has such a bad reputation for physical condition. It close to AIC -- which could be good if the college wants a building to rehab, but bad if the college is looking for a place for new construction.
---
Alden Street Primary School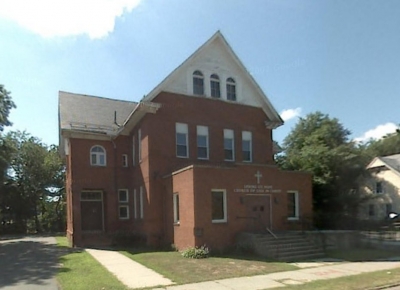 Built in 1898, this school was auctioned by the city in 1926 and purchased by the Order of Vasa, which was a Swedish fraternal organization. It was later converted into a church, and serves that purpose today.
---
Forest Park Primary & Grammar School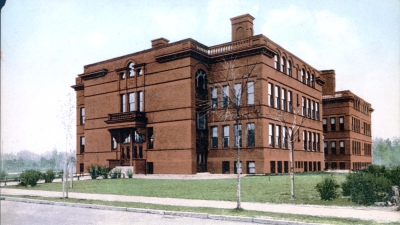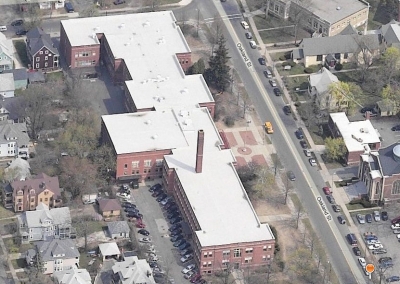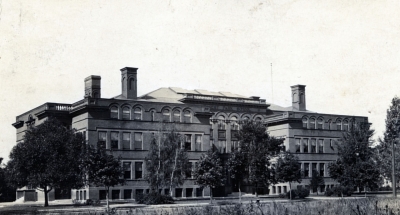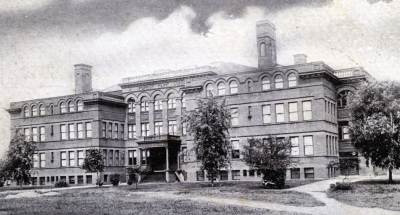 Built in 1899, this school was enlarged at least twice, substantially altered with the third floor being removed entirely.
In fact, I can't even see any of the features of the original school anymore; the aerial photo shows that it is the "I"-shaped portion closest to Garfield St. The facade shown in the old color postcard faced Garfield, but was eliminated in one of the expansions. Even the second-floor windows on the original portion were changed; the original configuration had banks of four windows, now there are banks of five windows. The original grand entrance was changed as well.
A theory I have is that the front facade of the school was actually opposite Oakland St - because in 1899, Oakland St. did not go through to Sumner Ave. and everything east of the current Oakland St. was undeveloped land, so it would make more sense to face the school to the west.
Update: I rode by the school yesterday, and my theory does not seem to be correct. The rear side of the school has the same window design as the Oakland St. side. So it is still a mystery why the current wing of the school that dates to 1899 appears so different than the original photos.
Click on the bottom two images for a closer look at the original design and then check out Google Maps to see what the same facade looks like today. Maybe someone can figure out the mystery of why this school looks so different.
Now known as Forest Park Junior High School, this school is thankfully scheduled for a major renovation which should preserve it for a long time, and there is even some talk about restoring a more decorative facade on the Garfield St. side.
---
Eastern Avenue Primary & Grammar School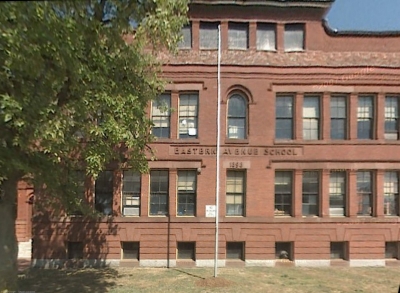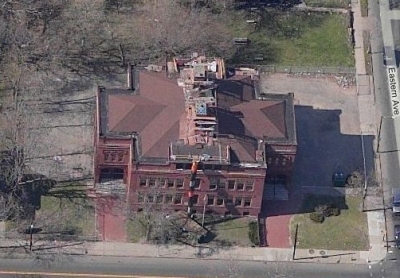 Built in 1899, I believe it is still in use by the Springfield Public Schools -- the sign in front on Google Maps says "Bridge Academy", which was a Springfield alternative high school. This school is a great example of an un-expanded school from Springfield's second school building wave. It is important to make sure that this school remains in good use so that it does not follow in the footsteps of many other schools abandoned and later demolished by the city.
---
Brightwood Primary and Grammar School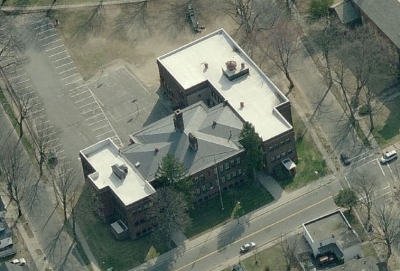 Built in 1899, but later substantially modified and enlarged, this is still being used as a city school. I don't have any period photos of this school, and the Google Maps car didn't drive in front of it so the aerial photo is the best I can find.
Sadly, of the 10 11 schools still standing, I would say that those with the most uncertain futures are those which are still city-owned and operated as schools. I would say that the future for Brightwood and Homer Street are questionable.