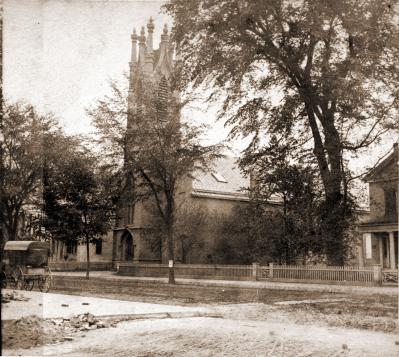 North Church (original)
Every now and then I come across photographs which are marked as being from Springfield, but upon further research, they are not. They are either from another state's Springfield, or sometimes are from another town in the region.
I thought that would be the case when I came across this stereoview, marked "North Church", published by Milton Bradley & Co, Springfield. I didn't recognize the church, and to me, "North Church" was the church that sits on the corner of Salem & Elliot Streets. Still, the identification wasn't written in pencil -- it was printed on a label affixed to the card, so I went ahead and bought it, puzzled as to its location.
I showed the card to Springfield Historical Commissioner Bob McCarroll, and although he hadn't seen the photo of the church before, he knew the history of North Congregational Church -- the parish originally had a church on Main Street, North of Bridge Street (the current site of the old Federal Building now being used as the Springfield Public Schools offices). He picked up on a small sliver of house pictured in the photo, to the right of the church. After doing some research, he confirmed from a photo that this house was indeed on Main Street, just north of Bridge St. He could make out the unusual skylights in the roof on the building next door, the same skylights pictured here.
The church was sold by the congregation to commercial developers in 1871 for $46,000; they probably continued to occupy it until their new building on Salem St. was completed in 1873. It was demolished and the Kinsman Block was constructed in its place.
Since it was demolished so early, it did not get the same photographic attention as many other churches in the city - was gone before the advent of postcard photos. But luckily, someone used it as the subject of a stereoview, and that stereoview survived for over 140 years.
If you click on the image, you can enlarge it to see more detail. I used both halves of the stereoview to construct a more full image; you can see the line going through the wagon on the left. Although its Gothic design makes the church seem grand, when you compare it to the house next door, its true scale becomes apparent. The parish had only about 350 members when this church was given up.